Gary was also influenced by his father's love for Gilbert and Sullivan, and songwriting. Finding music and collecting to be parallel worlds, he combined both into his career paths. His family moved from Texas to New Orleans in the mid 1950s, when Dixieland was popular, and to Nashville in 1957, when Country music was becoming popular. They then moved to the Philadelphia area at the time American Bandstand started, and to the New York area when The Beatles arrived. Sohmers' father, Edward B. Sohmers, had written a musical, "The Amazing Dingle Brothers Circus" that he wanted to get to Broadway, but when he was unable to make the proper connections, the family moved to the Chicago suburb of Des Plaines, Illinois.
After high school, even though he played guitar, sang and wrote songs, Gary gravitated toward the business side of music. In 1970, he was passing out flyers for the Chicago Blues clubs, promoting local blues acts such as Hound Dog Taylor, and learning the ropes of booking acts into gigs. In 1971-1972, he was stage managing and promoting some shows, and attending concerts around the United States. One of the concerts he attended was the Celebration of Life music festival in Louisiana, where he achieved a position working the front gate and stage security.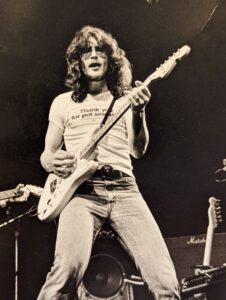 In early 1973, Gary was hired by Art Hollub, owner of the Aragon Ballroom in Chicago, Illinois, to produce a series of concerts at the venerable club. Sohmers booked the bands, did the promotion, marketing and stage management, and hired Arny Granat and Jerry Mickelson (the principals of Jam Productions, Chicago) to do front of house and security. Some of the acts presented in spring 1973, included Mike Bloomfield, Ted Nugent, Bob Seger, Siegel-Schwall Band, Cactus, The Sons of Champlin, Richie Havens, and Genesis featuring Peter Gabriel. One of the highlights of the Aragon Ballroom series was Gary's discovery of a new group playing on a flatbed farm wagon at a flea market in suburban Illinois. The group was Styx, and Gary offered to put them on the Richie Havens headlined concert, which was their first major appearance. At that time, he introduced Siegel-Schwall's label, Wooden Nickel Records, to Styx, and the following month he booked Styx on a ZZ Top concert in Hammond, Indiana, among other gigs.
After the Aragon stint ended, Gary was offered to move to Madison, Wisconsin to work for a booking agency called McMillan and Clary Talent. Gary brought talent he was currently booking, including Styx, Heartsfield, REO Speedwagon, Starcastle, and some of the Chicago blues artists, to clubs and colleges. Madison, Wisconsin, at the time, was a bubbling music scene, and Gary began working with locals like Ben Sidran, Tim Davis, Circus, Punch, Yancy Derringer, Spooner, and Cheap Trick, as an agent and promoter.
In 1975, while still being a booking agent, concert promoter, and musician, Gary founded MadCity Music Exchange in a quonset hut on Regent Street in Madison, Wisconsin. Sold to Gary's then assistant co-manager Todd, along with Spooner guitarist Dave Benton in 1983, and most recently to Dave Zero in 2007, the store is currently the longest lasting record store in the city. Also In 1975, Gary began as a founding writer, writing a weekly column on the Madison music scene called "City Notes", in a new local community newspaper called Isthmus.
In December, 1976, Gary published the first issue of the Madcity Music Sheet, a newspaper fanzine modeled after the UK's Melody Maker and New Musical Express, covering working bands in Wisconsin and Northern Illinois. The Sheet, as it was known, published bi-weekly until 1978, when it converted to a monthly magazine, and was published until 1980. Companion publications included the tabloid Madcity Music Guide, and the modern art and culture fanzine, The Madcity Mirror.
Between 1974 and 1982, Sohmers produced numerous concerts and festivals in Madison, Wisconsin, at venues all over the city. Venues include the Madcity Pop & Jazz Festivals at Olin Park, marijuana rallies on the Wisconsin State Capitol lawn, Mifflin Street Block Parties, shows at the Orpheum Theater, Capitol Theater and UW Stock Pavilion, along with most of the clubs and the bottom of State for Halloween. Some of the acts he presented included Badfinger, Kris Kristofferson, Ted Nugent, Head East, Spooner, Ben Sidran and many others. He also did art on hundreds of bar band gig posters in Madison between 1974 and 1983, which were put on telephone poles mainly in the college areas.
In 1976, Gary formed the first incarnation of his rock 'n' roll band, Windjammer, performing at the Church Key club as opening act for the Milwaukee blues band, Short Stuff. He recruited an array of musicians who performed in other local Madison bands including Jeff Walker (Spooner), Robert Julius Corbit (The Waves), Paul "Radar" Schoeder (The Rousers), Gil Jevne (Punch), and Dave Gochberg (Task Force). Windjammer played several gigs between 1976 and 1983 with various band members. Annual April Fools shows at Headliners nightclub featured numerous local Madison musicians.
In 1979, Gary recorded the Windjammer EP (extended play) at Pepperhead Studios in Sun Prairie, Wisconsin. The album consisted of songs he penned, featuring guitarist Scott Holmstrom (Roy Buchannan second guitarist and Nashville session guitarist), along with Schoeder, Gochberg, Jevne and some guest stars from other bands including Butch Vig (Spooner; Garbarge) in his first recording session for another artist other than his own band on the song "Blind," and Art Baldocci and Greg Biela (Heartsfield) on "Spinning My Wheels". In late 1979, a limited edition of 1000 copies of the extended play (EP) was released with 3 songs on Sohmers' own label, Upstart Records, in a cardboard cover and included one side with an extended live version of Sohmers' "Gotta Go." Gary's song "Good Old Friend" was also recorded during these sessions, but not released on the EP.
In 1983, Gary recorded an original song co-written with Geno Barone, with Garbage musicians Butch Vig and Steve Marker entitled "Dinosaur Rock". The audio was recorded at Smart Studios, in Madison, Wisconsin. Gary released a music video of "Dinosaur Rock" in 1985. It features live concert footage filmed at Headliners Night Club in Madison, Wisconsin in 1985 with Gil Jevne, Paul "Radar" Schoeder, David Gotchberg, Kurt Dahlbeg, Jeff Walker, Dick Kitchen, Robert Julius Corbett, and guests. The video references pop culture monster lizards, including Godzilla, was edited by Stephen Boros at The Metro in Boston in 1985, and aired on MTV.
After Gary sold his Madcity Music record store in 1983, he left Madison and moved to Hudson, Massachusetts. He opened his Wex Rex Emporium of Popular Cultural Artifacts store in downtown Hudson, Massachusetts, selling records, antique and collectible toys, movie and TV memorabilia, posters and other pop culture items. In 1984, Gary began working as a production manager at The Metro nightclub, after showing up for a Joe Perry Project WBCN lunchtime concert and being hired to do security and stage. He continued as a production manager for The Lyons Group at The Metro through its incarnation into Citi Club, and left in 1991. During his tenure he produced the first AIDS benefit concert with Cyndi Lauper and Dionne Warwick along with numerous other multi-act specialty shows. He produced concerts by Stevie Ray Vaughan, Eric Clapton, B-52s, Allman Brothers, Beastie Boys, Van Morrison, and many others.
Gary Sohmers: The Musician