Gary Sohmers was born in Houston, Texas. He lived in Texas, Louisiana, Tennessee, Pennsylvania, and Massapequa, Long Island, New York by the time he was 13 years old, and was bar mitzvahed in Brooklyn. He attained his love of collecting from his father, who collected campaign buttons. At the age of eight years old, he began selling his toys at garage sales, and took an interest in learning the relevance and history of the items, realizing he could one day make a business out of buying and selling pop culture collectibles.
Gary opened his first collectibles shop, Madcity Music Exchange, selling records and music memorabilia in 1974 in Madison, Wisconsin. He sold the shop to his long time employee in 1983, and Madcity Music is still open today after over 40 years. Moving to Massachusetts, he opened Wex Rex Emporium of Popular Cultural Artifacts store in downtown Hudson, MA in 1984. He offered records, antique and collectible toys, movie and TV memorabilia, posters and other pop culture items. Gary started appearing on talk radio beginning in 1985, on WBZ-AM with David Brudnoy. He was doing what Brudnoy deemed "psychic appraisals," since Gary couldn't see the object people called in to learn about.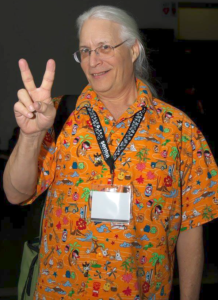 After that he hosted and produced his own weekly syndicated radio program entitled, "Calling All Collectors – The Gary Sohmers Radio Show." The show ran for many years on numerous local New England AM radio outlets. Gary's schtick is knowing "the value of 100,000 useless objects", and he uses this knowledge to blindly tell callers what their items might be worth. The programming subjects include collectibles and related topics. The show is currently on hiatus.
In 1991, he discovered the multi-channel universe being laid out by the major media companies, and began investigating how the collectibles world could mesh with the new TV environment. He started Collectors Channel, and began attending trade shows to create and sell television programming for a collectibles oriented audience. Several concepts he originated eventually became programs on various networks, but none were what he believed the audience was seeking. Eventually realizing he had a better chance with the new Internet technology, Gary started CollectorsChannel.tv.
In 1996, a concept similar to a program Gary was pitching got funded and began filming. A friend, Leila Dunbar, recommended him to appear on the program. Gary made his first appearance on Antiques Roadshow in 1997, in Rochester, New York. His first aired appraisal for the show was of an oil painting by musician Frank Zappa from 1960, which he valued at $15,000 to $25,000. USA TODAY ran a half page, full color photograph of Gary with the painting, titled, "We're Only In It For The Money" – a reference to Frank Zappa, and to the collectibles marketplace. Other notable appraisals by Sohmers that aired on the show include original Peanuts comic strip artwork, with an appraised value of $450,000; a laugh track machine invented by Charles Douglass appraised at $10,000; and a Beatles "Butcher Cover" album ranging in value somewhere between $10,000 and $12,000. As an appraiser for 13 seasons, Gary appears in more than 60 episodes of the show. During his time on the Emmy Award-nominated PBS television program, he appraised collectibles, toys, and pop culture memorabilia.
Gary Sohmers: The Collector, Vendor and Appraiser