Beasties: A Sci-Fi Rock Opera
____________________________________________________________________________________________________________________________________
Prior to launching their soon to be iconic debut project Beasties: A Sci-Fi Rock Opera, Act One, we got the chance to talk in depth with the mastermind behind the work – Gary Sohmers – to find out more about the music, the show in full, what inspired it, what it represents, and what lies ahead. Here's the conversation in full.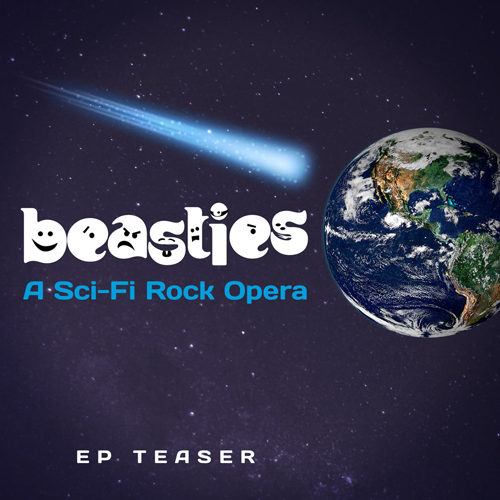 Hi Gary – huge congrats for the new project. For those new to your work – where are you based, and how long have you been making music for?
Aloha from New England … I live outside of Boston in Hudson, Massachusetts.
What inspired the idea for Beasties, and was it the concept that took hold first, or a desire to create a rock opera?
Beasties music has been in progress since 1976, when I wrote Good Old Friend, as the introduction to responsibility to help others, and the planet. Over the years other songs came to me as I learned, failed, learned again, failed again and persevered through my careers.
At the end of 2016 when the world itself was on a collision course with climate change and the election of a corporate criminal, the Beasties showed themselves to me in a state of deep depression.
In one week, in January 2017 on the verge of an inauguration that caused a rift in the universe's trajectory, I wrote 10 songs, a stage show, and started three novels from 3 perspectives. It became a rock opera when I put the songs in story telling order, and the universe compelled me to make it happen.
How long was the project in the making, and how does it feel to finally share it with the world, and reflect upon it as an audience member now – trading creative control for curiosity of reception?
Being the lead "creative" person on such an expansive project is an interesting perspective to have after 50 years of only being support for so many great, and not so great, artists, writers and musicians as an agent, producer, promoter, publicist or schlepper.
As a producer, the art of making vision become reality is just to envision, plan, then execute. But once ego is involved, finding the rational balance to produce with artistic desire becomes an evolution instead of a revelation. I've embraced persistence of vision.
"…The universe compelled me to make it happen."
READ THE FULL INTERVIEW ON  stereostickman.com